This series of portraits complements the long term project DARK WATER Cambodias UXO Divers
It has been over 30 years since the end of the Khmer Rouge regime, which resulted in the deaths of an estimated 2 million people. Cambodia and its people still suffer from the legacy of that dark time in a variety of ways, including the deadly and hidden threat of abandoned land mines, which still kill or injure more than 100 people every year.
Since the early 1990s, the Cambodian Mine Action Centre (CMAC) has been training de-miners and has been responsible for clearing vast areas of Cambodia from the threat of land mines.
The huge task has now taken a new direction for CMAC. The group, working in conjunction with the Golden West Humanitarian Foundation, has selected a 9-person strong group of de-miners from 40 hopeful volunteers to become Cambodia's first elite salvage diving unit.
During the early 1970's ships carrying large stockpiles of explosive ordinance to supply the Khmer Republic were sunk in the Mekong and Tonlé Sap rivers by the Khmer Rouge and have laid there ever since as well as large ordinance dropped by the American Military during the Vietnam War on Cambodia have also ended up in rivers and lakes.
The selected 9 divers are being trained not only to dive and recover, but are also learning how to do so completely blind in depths of up to 30 meters and against the strong currents of the Mekong and Tonlé Sap rivers. These are hostile conditions, requiring both physical and mental strength and dexterity.
Leng Channak - Cambodian Unexploded Ordnance Diver. Channak wanted to be one of the first divers, he has been clearing mines since 2004 and believes his work has helped a lot of people access their land by removing the danger of mines and UXO. By training to clear the rivers Channak believe it will aid the development of his country ensuring the safe construction of bridges and infrastructure.
Piseth Dara - Cambodian Unexploded Ordnance Diver.
Dara started training as a de-miner in 2009 and started working in 2010. He applied to be part of the dive team as it is the first of its kind in Cambodia. He was able to swim before the course but had no experience or knowledge of diving. Dara does not mind the dark water conditions - he would find it far more stressful to be able to see than to slowly search in darkness.
Sok Narun - Cambodian Unexploded Ordnance Diver.
Narun was in the military as a radio operator, when his boss recommended he went to work in de-mining as there was a big need for de-miners. In 2000 he became a team leader and was responsible for 7 de-miners. To become a part of the dive team he gave up his position as a team leader.

Morm Vuth - Cambodian Unexploded Ordnance Diver.
Vuth started working as a de-miner in 1996. He worked in many different provinces in Cambodia , prior to working as a de-miner he was a solider. Vuth had no experience in detonation of UXO prior to the Dive training, now Vuth is qualified as a Level 1 EOD. (Explosive Ordinance Disposal ).

Prak Hean - Cambodian Unexploded Ordnance Diver.
Hean started de-mining in 1992, He has lost count of the number of mines he has cleared; "it must be thousands", he says. A lot has changed since he started de-mining, people are now able to use the land and the frequency of injuries due to exploding UXO has decreased. He sees the next challenge as being able to do the same for the rivers and lakes by clearing them of underwater UXO.

Tri Khun - Cambodian Unexploded Ordnance Diver.
Khun was an army for two years in Sihanoukville on the coast of Cambodia before becoming a de-miner and has worked across Camboida for 16 years.
When the team removed the Large UXO from the river in may Khun said " I felt so happy because I am was a part of the first team to remove the UXO"
Lorn Sarath - Cambodian Unexploded Ordnance Diver.
Sarath started his training as a de-miner in 2007 and started working that year in Battambang province. He joined the team as it was a new opportunity within de-mining; it's been hard to get used to the dark water conditions but is now used to it. He personally feels that the work of the team is a really important; it will eliminate a threat and keep Cambodia and its people safe.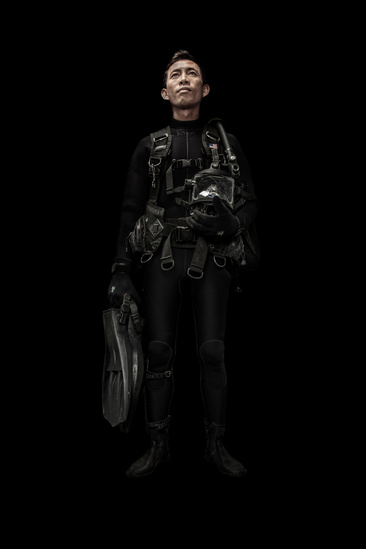 Phorn Pheakday - Cambodian Unexploded Ordnance Diver.
Pheakdey started working in 1997 as a de-miner. He was asked to take part in a survey along the river banks of the Mekong. During this survey he heard a lot about the UXO in the river from the villagers. Not long after that he heard about the opportunity to train as a UXO diver and applied.

Sok Chenda - Cambodian Unexploded Ordnance Diver.
Chenda started working in 1997 as a de-miner and quickly progressed to be a senior de-miner. In 2008 he became a technical instructor, teaching de-miners and the military how to identify UXO. Despite all his experience on the land he now wants to take those skills into the water as the team leader of the UXO salvage dive team.

Mike Nisi- Trainer of Cambodia's Unexploded Ordnance Diver Team. .Mike is from San Diego in the USA. He spent 9 years in the USA military where, amongst other roles, he became a Master EOD Technician clearing underwater mines for the US Navy. In addition he ran 'special ops' on the ground attached to Seal Team 1 serving in Afghanistan and Iraq. He also completed underwater operations in Japan, Korea and the Philippines.
Rob Rice - Trainer of Cambodia's Unexploded Ordnance Diver Team.
Rob was born in Wisconsin, USA . He joined the US Military at the age of 18 and eventually joined the EOD programme. Once he qualified he rapidly excelled and was named 'Honor man' of his dive school class. A chance encounter with former 'army buddy' led to him coming to Cambodia to be the first dive instructor for the newly formed UXO salvage dive team.